eVolo is an architecture and design journal focused on technological advances, sustainability, and innovative design for the 21st Century. its objective is to promote and discuss the most avant-garde ideas generated in schools and professional studios around the world. It is a medium to explore the reality and future of design with up-to-date news, events, and projects.
Beeswax Skyscraper: A Tower Made By Cooperating With A Swarm Of Bees
Prize: Honorable Mention
2022 Skyscraper Competition
Chien-Ching Su
Taiwan
Link: https://www.evolo.us/beeswax-skyscraper-a-tower-made-by-cooperating-with-a-swarm-of-bees/
Introduction:
Insects, accounting for 80% of animal life on Earth, are the most diverse and largest group on Earth. However, both their diversities and numbers are declining around the globe due to habitat loss, pollution, and climate change. Without effective conservation measures, not only food shortage becomes serious because lots of pollinators disappear, but the whole ecological balance on the planet will break. The main goals of the project are to conserve insects' diversity and restore their population. With artificial frameworks and the help of bees, the high-rise structure will be built as an insect habitat.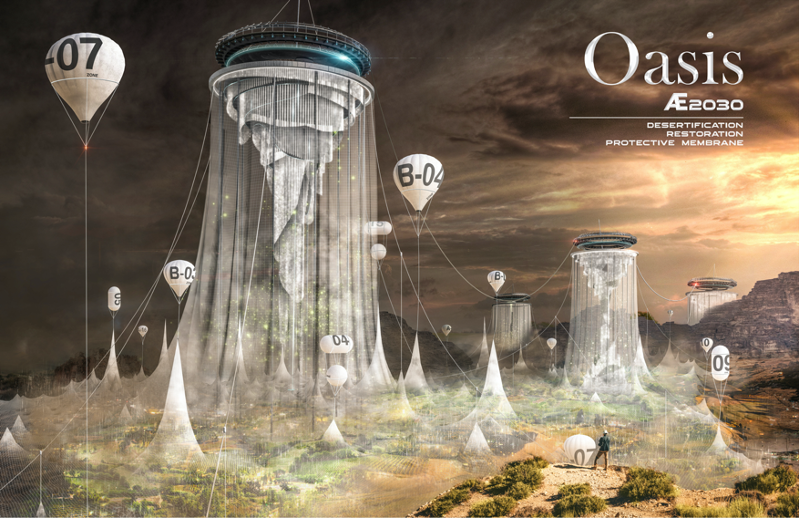 OASIS-Æ2030: Desertification Restoration Protective Membrane
Prize: Honorable Mention
2022 Skyscraper Competition
Han-Yu Lai, Wei-Qun Cai, Chun-Yi Yeh
Taiwan
Link: https://www.evolo.us/oasis-ae2030-desertification-restoration-protective-membrane/#more-37668
Introduction:
Climate change and human overexploitation have led to a growing problem of desertification and land degradation. Oasis's attempt to prevent direct contact between sand and dust from planting grounds by blocking dust from sandstorms in the desert has been prevented. The water is stored using an air filter converter in the center of the tower, and the water is distributed equally to the land by controlling a central control room at the top of the tower. Because desert areas have unstable climates and rapid environmental changes, Oasis changes according to different climatic conditions. The air and water filtration system will achieve the best benefits through contraction and linkage, and ultimately achieve the purpose of environmental restoration.